On May 16-18, 2023, the IFSEC security exhibition was grandly held at the EXCEL International Convention Center in London, UK. This is one of the most well-known and largest professional exhibitions in the security industry worldwide, attracting security companies and related experts from all over the world. At this exhibition, Nanoradar as a leading radar sensor company in China, showcased its heavyweight security products including NSR800W, CNR200, NSR300W, TSR10, and TSR20, totaling more than 10 products, which received widespread attention and praise.
Nanoradar displayed the most comprehensive series of security civil radar products, with over 10 models covering detection ranges from 15m to 800m for pedestrians, detection angles from 20° to 120°, perimeter security products covering a narrow 20° linear perimeter protection angle, and area security products covering a broad 120° angle for comprehensive protection.
NSR800W is an intelligent wide-angle area security radar with a detection range of 800 meters and a detection angle of 90°. The product uses FMCW modulation mode and has high detection accuracy and unique digital beamforming (DBF) technology, which greatly improves the radar system's anti-interference ability. The radar has high-precision angle resolution capability, low-speed detection capability, can distinguish between human and vehicle targets, and effectively filter out animal interference such as insects and birds. The product is widely used in important areas such as borders, prisons, barracks, squares, ports, oil fields, and oil depots.
TSR10 is an industry-leading 24GHz traffic ranging and speed measurement radar that accurately measures target distance and velocity information using the transmitted radio waves and the difference between the echoes. TSR10 uses a narrow beam to cover a single lane, monitoring distances of 15-30 meters, avoiding interference from adjacent lanes, with distance measurement functionality and ensuring accurate positioning triggering of various types of vehicles, which can significantly improve vehicle capture performance and greatly reduce driver speeding violations. The product can meet the needs of single-lane speed measurement and flow monitoring applications for checkpoint systems and is applied to road lanes such as highways, city roads, national roads, county roads, and tunnel entrances.
Nanoradar's exhibition booth received much attention with over 100 professional customers consulting and communicating on the first day alone. The main reason was that Nanoradar has the most comprehensive series of civil radar products, focusing on "being integrated", not competing with customers, and being verified by dozens of European customers many times. Nanoradar is the most focused company in radar sensor development, different from other companies at the exhibition focused on overall security solutions, thus receiving the favor and attention of security manufacturers, integrators, and channel dealers. Nanoradar's products are widely used, stable, with no compliance issues. More than three products have obtained European CE certification, and more than 50 customers in Europe have already completed transactions, fully verifying the product's quality.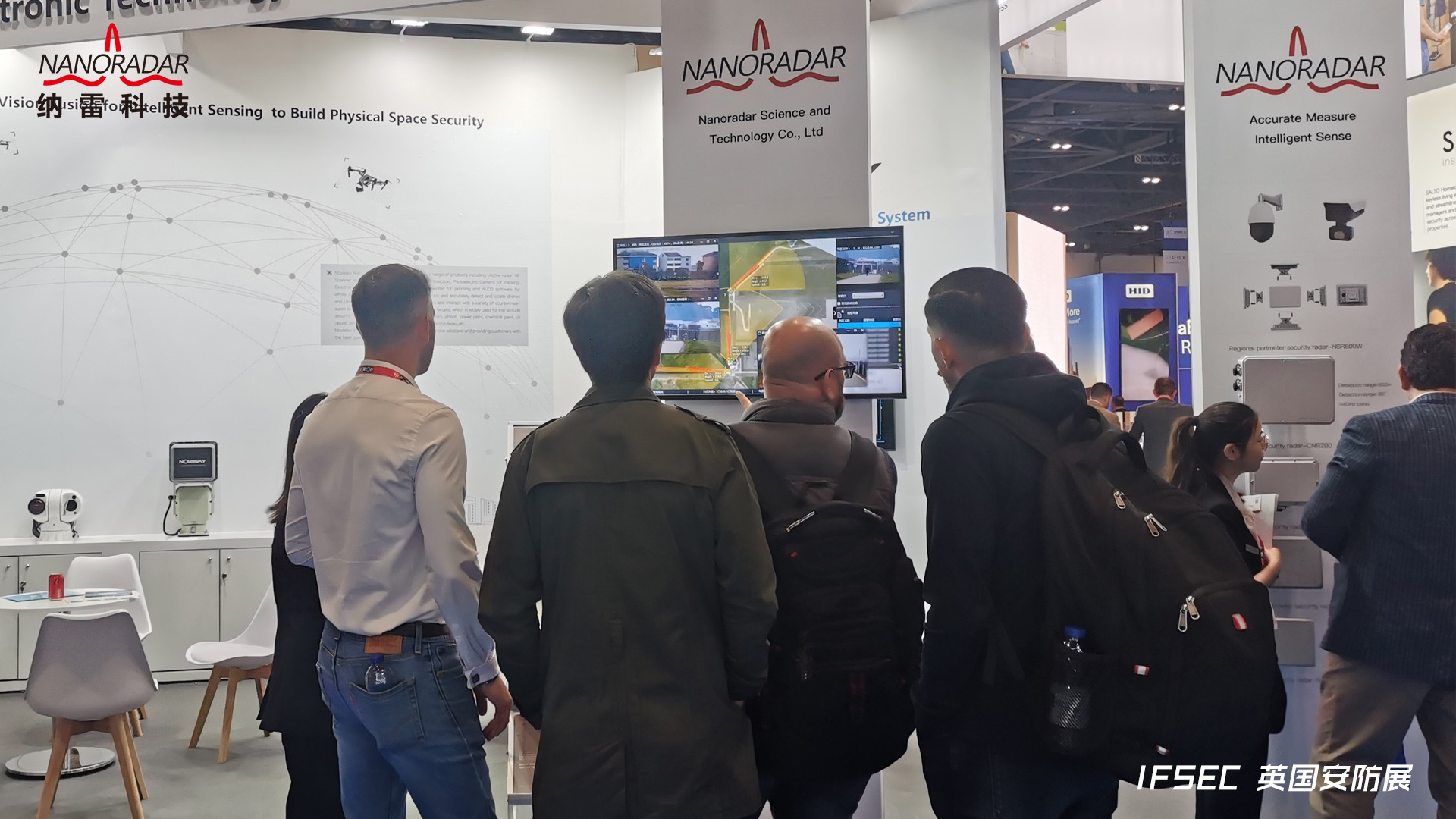 Nanoradar's exhibition booth design was eye-catching with red and gray as the main color scheme, showcasing Nanoradar's brand image and corporate culture. There were multiple demonstration areas set up on the booth allowing customers to experience Nanoradar's product performance and advantages firsthand. Professional staff were also available to provide detailed product introductions and answers. There was also a video area playing Nanoradar's corporate promotional videos and product application case videos, allowing customers to gain a deeper understanding of Nanoradar's strength and achievements.
As a leading radar sensor company in China, Nanoradar showcased its most comprehensive range of civil radar security products at the IFSEC 2023 exhibition, winning unanimous praise and recognition from the industry. Nanoradar will continue to uphold the core values of "innovation, excellence, cooperation, and win-win", continuously improve product quality and service levels, and provide the global security market with more high-quality, intelligent, and reliable radar sensor solutions.