Appearance of WTC261-3000 Product
Ⅰ、Product Introduction:The WTC261-3000 is a wide-beam water surface surveillance radar with a detection range up to 3000 meters for vessels. It adopts FMCW modulation and utilizes various advanced technologies including MIMO, TBD, JPDA and Micro-Doppler sensing to accurately detect range, angle and other motion parameters of targets. The radar can identify large, medium and small vessels, and intelligently switch between scenarios with one click. Meanwhile, it builds radar environmental cognition capabilities based on neural network technology to effectively eliminate false targets like trees, birds and water splashes. The WTC261-3000 features high sensitivity, wide detection range, strong environmental adaptability, accurate detection, easy integration, stable performance and high cost-effectiveness.
Ⅱ、Product Specifications :
Ⅲ、Product Highlights :
1、 Superb perception, accurate detection::
Ultra long-range sensing: 24GHz frequency, maximum detection range of 3000m, with dynamic water clutter suppression during detection to reduce false alarms
Perceptual target classification: Adopting AI radar technology, differentiating large (>50m), medium (10-50m) and small (≤10m) vessels through contour perception
Precise discrimination of multiple targets: Range resolution of 4m, through precise contour perception, still able to accurately distinguish between vessels in proximity and intersection
2、Intelligent perception, low false alarm rate :
Active environmental learning, eliminate false alarms: Cognitive radar integrates brain science and AI into the radar system, empowering the radar with the capabilities of environmental perception, understanding, learning, reasoning and judgment & decision-making. This allows the radar system to adapt to the increasingly complex and dynamic electromagnetic environments.
Suppression of false alarms under rainy and windy weather: False alarm rate can be reduced under windy and rainy weather through algorithm optimization.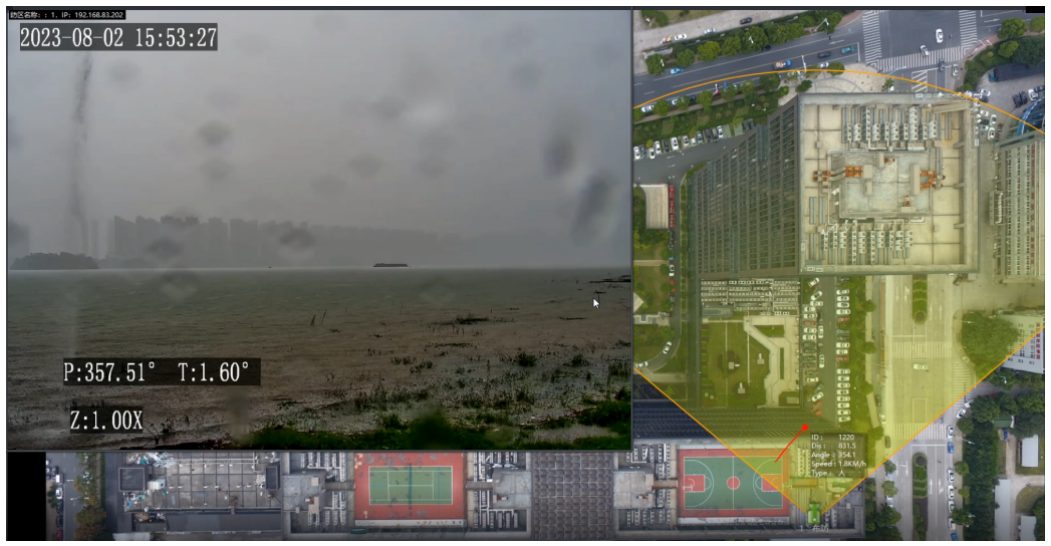 Automatic filtering of water clutter: Water surface clutter can be automatically filtered through algorithms to prevent false alarms caused by clutter interference.
Through environmental learning, false alarm suppression, and clutter filtering, false alarms can be limited to ≤1 per day under wind force 3 or lower.
3、High reliability, ultimate experience:
Strong environmental adaptability: IP66-level high protection rating, waterproof and dustproof, shock and drop resistant, stable operation in extreme environments of -40°C ~ 70°C, 24/7 real-time protection .
Adaptive calibration: Radar has a built-in posture sensor, supports RVSM radar installation information adaptive calibration, no manual calibration required
Ground coordinate information output: Supports GPS/Beidou, can directly output target ground coordinate information
Blocking prevention: Effectively prevents malicious blocking and shielding of radar detection
4、 One-stop Web management, easy operation
Plug and play: Can be used upon power up of a single unit, no configuration required
Information display: Interface can display GPS, device installation information
 Supports multiple languages: Supports four languages - Chinese, English, Russian and Korean
One-click scene selection: Intelligently switch between sunny, rainy, bridge, river, port and other scenarios with one click
Area drawing: Drawing alarm, early warning and filtering areas - focus on user's key areas of concern
5、RVSM rapid fusion, seamless integration:
Good compatibility: Supports mainstream IP cameras of 10+ brands such as Hikvision, Dahua, Uniview, Kedacom and Jingyang. Compatible with various databases, supports RTSP standard.
Abundant API interfaces: Provides standard SDK interfaces that support common international protocols such as MODBUS, ONVIF
Seamless integration: Protocol documents are provided to third-party platforms, supporting multiple communication methods like TCP and HTTP. Flexible interfaces make customer integration more convenient.
Ⅳ、Best Application Practices :
Bridge collision prevention application practices: The radar integrates video surveillance, sound & light alarms, data transmission, VHF radio notification and other systems, which can provide safety early warnings to passing ships near the bridge, realize visual management of bridge facilities, effectively reduce the probability of ships colliding with the bridge during operation, extend the service life of the bridge, and ensure bridge safety.
Selected Cases:
Water electronic toll station application practices: The radar integrates AIS, thermal imaging cameras and other systems, which can realize functions such as automatic detection, intelligent identification, safety early warning, coordinated tracking and illegal evidence collection for ships sailing in and out of the toll station. It provides real-time, comprehensive and visual dynamics of ships at the water toll station for inland waterway ship management.
Selected Cases:
WTC261-3000 can also be widely used in offshore drilling platforms, port docks, marine ranches, offshore wind power and other security scenarios with strong demands, providing strong support for regional safety.



Big launch incoming! Nanoradar announced on August 15, 2023 the latest product in its Aquatic Guardian series, the WTC261-3000 water surface surveillance radar. This radar can monitor various types of vessels on the water surface in real time and accurately detect ships up to 3000 meters (large vessels). With cognitive radar technology, it can achieve 99.999% clutter suppression from water surface, bringing great convenience to water surface monitoring and management.